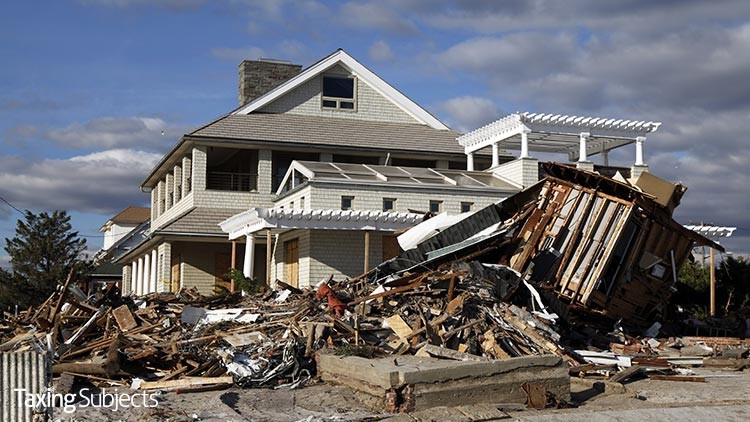 The IRS this week released another disaster victim-focused tax tip, reminding taxpayers what they can do to rebuild financial records lost to a storm, flood, or some other catastrophic event.
It's no secret that the recovery effort following a natural disaster can be a stressful, withering process. Reconstructing financial records is just one piece of that puzzle, and the IRS understands that getting those documents can be confusing—especially if someone has never been through that process.
To help taxpayers get started, the IRS identified three common types of documents associated with "[proving] disaster-related losses … for tax purposes, getting federal assistance, or insurance reimbursement:" tax return transcripts, financial statements, and property records.
When it comes to getting copies of old tax transcripts, the IRS has two available options: using online tools and calling the IRS directly. Taxpayers who are more comfortable using Internet-based resources will need to log in to the Get Transcript tool on IRS.gov. Those who may not have access to the Internet—or simply prefer making phone calls—can use the automated phone transcript service: 1.800.908.9946.
As for recovering old financial statements, the IRS says that taxpayers will need to get in touch with the credit card companies and banks they use: "If paper records were destroyed, statements may be available online. People can also contact their bank to get hard copies of these statements."
Finally, the IRS put together a short, bulleted list of steps taxpayers can take to rebuild property records:
To get copies of documents related to property, home owners can contact the title company, escrow company, or bank that handled the purchase of their home or other property.
Taxpayers who made home improvements should get in touch with the contractors who did the work. They can ask the contractor for statements to verify the work and cost. They can also get written descriptions from friends and relatives who saw the house before and after any improvements.
For inherited property, taxpayers can check court records for probate values. If a trust or estate existed, the taxpayer can contact the attorney who handled the trust.
When no other records are available, taxpayers can check the county assessor's office for old records that might address the value of the property.
Car owners can research the current fair-market value for most vehicles. Resources are available online and at most libraries. These include Kelley's Blue Book, the National Automobile Dealers Association and Edmunds.
Further information can be found in a number of IRS publications, including "Publication 547, Casualties, Disasters, and Thefts;" "Publication 584, Casualty, Disaster, and Theft Loss Workbook;" "Publication 584-B, Business Casualty, Disaster, and Theft Loss Workbook;" and "Publication 2194, Disaster Resource Guide for Individuals and Businesses."
Source: Tax Tip 2019-147